ABOUT THE INTERNATIONAL WEAVING NETWORK
In 2020 the International Weaving Network started with 6 members of WEEFNETWERK. Its goal is to strengthen the basis for the craft of weaving by initiating and facilitating the contacts between weavers in different countries and cultures. At the moment the network consists of 25 weavers from Belgium, France, Italy, Norway, Sweden and The Netherlands.
An annual online meeting is organized with an inspiring programme and a reflection on the results of all the different working groups.
We now have 3 groups, which focus on online exhibitions, international courses and sustainability respectively.
Exhibitions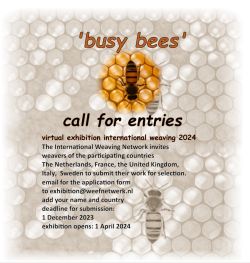 CALL FOR ENTRIES
Virtual Exhibition International Weaving 'BUSY BEES' 2024
The International Weaving Network is very pleased to announce its third virtual exhibition. The participating countries of the network are inviting all weavers from The Netherlands, France, Italy, Sweden and the United Kingdom to submit their work for selection.

Email for the application form and criteria for participation: Dit e-mailadres wordt beveiligd tegen spambots. JavaScript dient ingeschakeld te zijn om het te bekijken.   
Please, add your name and country

Deadline for submission: 1 December 2023
Exhibition opens:  1 April 2024

Bees, at first glance, might not be an obvious choice for an exhibition seeking diverse interpretations in weave, although one weaving structure is called Honeycomb. Dive into the hive and you will find the extraordinary source of benefits bees provide, a treasure trove of systems, actions, eanings and associations: patterns of behaviour in the insect (and human) world, climate change, swarms, vision, communication, productivity, reproduction, division of labour, produce, home-building and colonies. How busy life is in general, and seems to get busier! Whether your approach is from politics, observation, dance, perspective, ecology or any other vantage point, bees have it all! We look forward to welcoming your creations inspired by these all-too-precious insects!
CURRENT AND PREVIOUS ONLINE EXHIBITIONS
Freedom - 2023
Crossborder Pilot Exhibition - 2022
International weaving courses
The first international weaving course was a cooperation between teachers from Belgium, Norway and The Netherlands. Students were invited to follow the courses in several locations of cultural interest in both Belgium and The Netherlands.
Sustainability
The sustainability group is currently working on an inventory of weaving yarns and their score on sustainability aspects.
CONTACT / JOIN US
The network is present on Facebook.
Would you like to join? The International Weaving Network is always open to weavers who want to participate in one of the working groups or who would like to contribute a new initiative or idea. If you are interested send an email to: Dit e-mailadres wordt beveiligd tegen spambots. JavaScript dient ingeschakeld te zijn om het te bekijken.